11 November 2019
Customer report (1): Kavelaars-Claassen fruit grower
This autumn we will publish a new series of customer reports from FruitSecurity Holland. We will visit a variety of growers in the Netherlands and Belgium. We begin at fruit growing company Kavelaars - Claassen, where I was a guest recently. You can read the report this week!
Fruitgrower Kavelaars - Claassen is located in the village of Zevenbergschen Hoek in Brabant, near Breda. The family business has existed for over 200 years and was originally an agricultural company, until grandpa Kavelaars decided to start growing fruit around 1960. Nowadays, the family is fully dedicated to the growing of pears. To be more specific, their acreage consists of 6.5 hectares Conference, 4.5 hectares Sweet Sensation, 2.5 hectares Comice and 1.5 hectares Concorde. Gradually I found out that the family also does all kinds of other things; more about that later.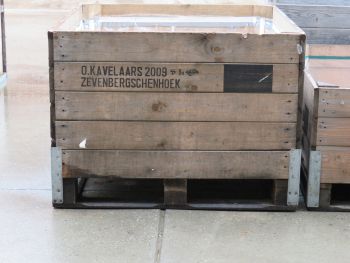 I meet Steyn Kavelaars, 25 years young and working in the company for six years now. Partly in view of the activities of his father, as NFO chairman and working at the fruit growing department of ZLTO, Steyn takes on a considerable part of the practical work. Steyn himself followed the fruit growing training in Goes and it appears that the work is well spent on him. He was also the driving force behind the purchase of 10 hectares of hail nets from FruitSecurity Holland that I come to see today. What made them choose hail nets?
Steyn says: ''Four years ago we had a difficult time: hail, frost damage, poo fruit setting of the Sweet Sensation. We made a good move with the hail nets because we no longer have to pay for hail insurance, so in the end it reduced costs for our company. With Sweet Sensation we have so far been able to deliver good quality hail nets every year and I think this year again. The choice certainly had to do with concerns about the future as costs continue to rise.''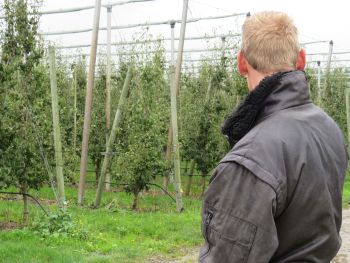 Three years ago the first nets were placed on about five hectares, tow years another five hectares followed. This covers two thirds of the acreage. ''The last part is just Conference, we are not going to cover that,'' He continues: ''The first year we had an storm during Sweet Sensation's harvest. Because of the hail nets, we were able to catch a lot of wind an therefore make a big difference to the quality. We have structurally less wind damage. Furthermore, it also catches some of the birds. Some of them can still get underneath, but with a cannon at the entrance we can stop a lot.''
Steyn says it calms things down too. ''At the beginning of the season, you were always insecure because you don not know if you're getting any hail. Now you're not lying awake. I don't pay attention to every rain anymore I'm less busy with the weather. That is very nice because there are already enough things you have to keep an eye on. It's getting harder and harder to produce a kilo of fruit and sell it well.''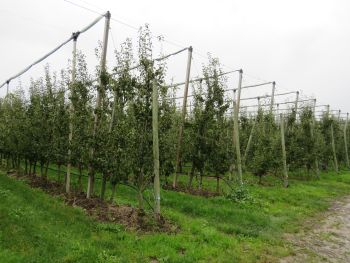 It is probably partly for this reason, that the business activities are slowly but surely being expanded. ''Anyway, we already had a cooling capacity of 1.6 millions kilos. We rent out a half of this capacity to third parties. We also want to start next year with a small piece of cherries, for local sales.'' While talking, I find out that Steyn is also active in all kinds of other things, including contract work and trade. ''You don't have to be big in my opinion, as long as you handle things well,'' he says.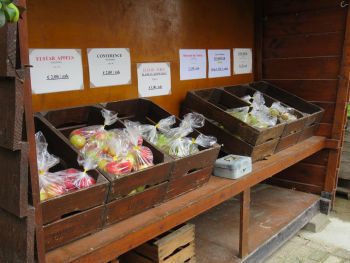 A large company also means a lot of costs, which he believes is too risky at the moment. The five hectares of undeveloped land right next to their land are not used for the time being. ''My vision is to sell locally, I expect to be able to make a return on investment there at the moment. With the cherries. There's still room for that in our neighbourhood.'' Steyn has made a sales outlet and is considering a vending machine for the future. They may extend the season with plums and an early apple variety. ''But only with a vending machine. A store is a whole other step.''
As we conclude the conversation, I'm asking Steyn why he chose FruitSecurity Holland. Steyn: ''I wanted to do the placement myself and I had a good click with them. We asked four parties for an offer. FruitSecurity Holland is reliable, they also have a strong cooperation with the supplier and therefore a good price-quality ratio. And they know a lot about the system, you just notice that they have a lot of knowledge. Becuase sometimes there are representatives who barely know the system themselves. FruitSecurity Holland also tests all systems.''
Steyn says the partnership went well. ''They've just kept their promises so far and they're not the toughest, that's nice. The contact is easy, they are easy to approach and always ready to help you.''
Terug