16 May 2020
Customer report (3): Bangels fruit farm from Montenaken
The Belgian brothers Christophe and Pascal Bangels grow apples and pears on a total of 100 hectares in Montenaken. One of their regular customers is Colruyt, a collaboration that encouraged them to install hail nets at high speed. You can read their story today, and how they entered into a pleasant collaboration with FruitSecurity Holland.
www.fruitteeltonline.nl
''Over the past three years, we have very quickly invested in two exclusive Colruyt apple brands: Magic star and Coryphée (an early variety that will be on the market for the first time in 2020, ed.) During that period, we built 45 hectares of hail nets and planted new varieties,'' says Christophe Bangels, who I'm speaking to for the interview. It was a big investment for the brothers, but they like to talk about working with the supermarket chain. ''The advantage is: the product is actually sold before it is harvested. In 2018 we all had a small yield of the young trees, in 2019 we already had a decent harvest. Colruyt pays a fair price for it. They have Magic Star apples on shelves until the end of July this seasons''.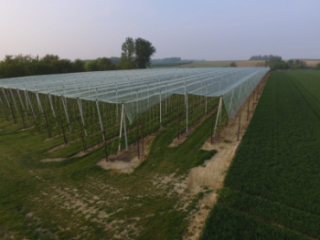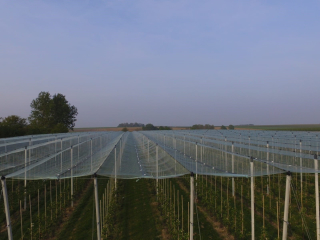 Also at the Bangels brothers the heavy sun has caused a loss last year. ''We had some 15-20% damage to the apples. But the apples that were under the nets were better. The shade used to be a disadvantage of hail nets, but now it's an advantage because we get such hot summers. You see more and more extremes: then too wet, then too dry. Unfortunately, we have also suffered a lot from hail in recent years, so we were glad that the nets were above it.
About 15 years ago Christophe and Pascal initially invested in anti-hail cannons. ''But that's not accurate, it's still a risk. No one can say for sure that it works. And it makes a lot of noise, when you sit between the houses it's annoying. Hail nets are much better.'' Initially, the hail nets were built because Colruyt asked for them. ''They must be able to count on those apples. But we are also happy with them. You sleep better if you start with hail nets.''
In the first year, five hectares of hail nets were built for Colruyt by three collaborating growers. ''This all had to be done fairly quickly, we were allowed to grow for Colruyt and started working toghter. One of the other three growers had already chosen a Belgian supplier so we went along with that. That went reasonably weel, but I contacted FruitSecurity Holland the following year. We immediately had a good relationship with Gerben and Teus and then started working with them''. The company Bangels has been working with them for the third year now. ''This year they will build another 10 hectares of hail nets with us. We also hire a Dutch contractor whom we know through them, the company is called Vriend. They do a lot together with FruitSecurity Holland. I find the combination of Vriend for the contract work and FruitSecurity Holland for the material and finishing very good, I am very satisfied with that.''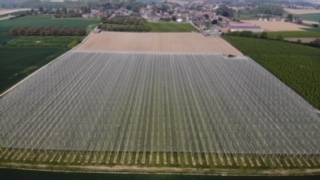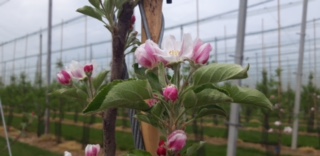 Christophe is clear about this and adds: ''Vriend's contract work is much simpler, as is the Dutch material that works better and faster than the Belgian material we used to have. It has been made simple but it just works conveniently and construction is therefore faster. Vriend has a machine to set the poles using GPS. This way you get more done with less people. And the quality of the material is the same, that's just good''.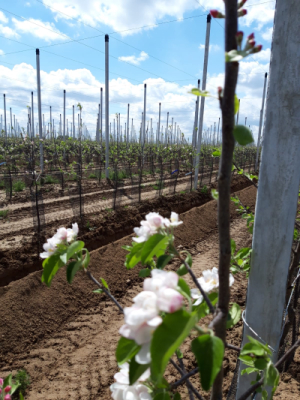 The hail nets enable the brothers Bangels to grow a top product. ''For Colruyt the product has to be very high quality and the nthey want to pay more for it. That is their strategy. The quality of your fruit and vegetables is the little you can distinguish as a supermarket chain fro mother department stores''. And that's what the brothers like to work on.
Terug